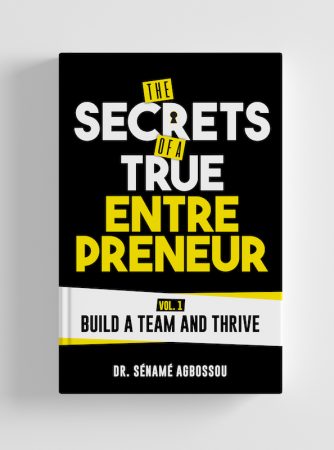 The Secrets of a True Entrepreneur
How to build a team and thrive
"In this book, I will show you three elements—secrets, that I discovered over my twenty years observing the entrepreneurial world and wondering why entrepreneurs seem to be overwhelmed, exhausted, overworked, and stressed. I hope this book rekindles your entrepreneurial spirit and enables you re-approach your business with confidence."
- Dr. Sénamé Agbossou
THE SECRETS OF A TRUE ENTREPRENEUR Vol. 1 is a book where you will come across:
 Five types of people you encounter in relationships.
The most important reasons to hire someone.
Tools to identify the right people for your business.
Insights to eradicate outmoded beliefs that keep you from finding freedom and fulfillment.
Ways to retain your valuable team members and avoid costly turnover In this book, you'll find the UNTOLD truth of entrepreneurs who achieved freedom, wealth, and fulfillment.
"This book has helped me see common issues closely and now I have the knowledge to take action and clear the hassle!"
Jane CEO